Following the implementation of exceptional measures to curb the COVID-19 virus by the Irish Government, Veolia has responded to ensure the maintenance of our essential services, while guaranteeing the safety of our employees.
Veolia provides essential services to industry, healthcare, state agencies and local communities. This includes:
Veolia's women and men operate based on proven policies and procedures to carry out their roles and this process-driven approach means we are well placed to respond to even challenging conditions such as the COVID-19 epidemic. 
Continuity planning for essential services
To guarantee the continuing delivery of essential services for our customers and our communities, Veolia has activated our business continuity plan organising services and teams to meet the changing environment.
Step 1: implement measures to reduce the risk of employees being exposed to the virus.
Step 2: reorganising our teams to ensure the continuity of essential services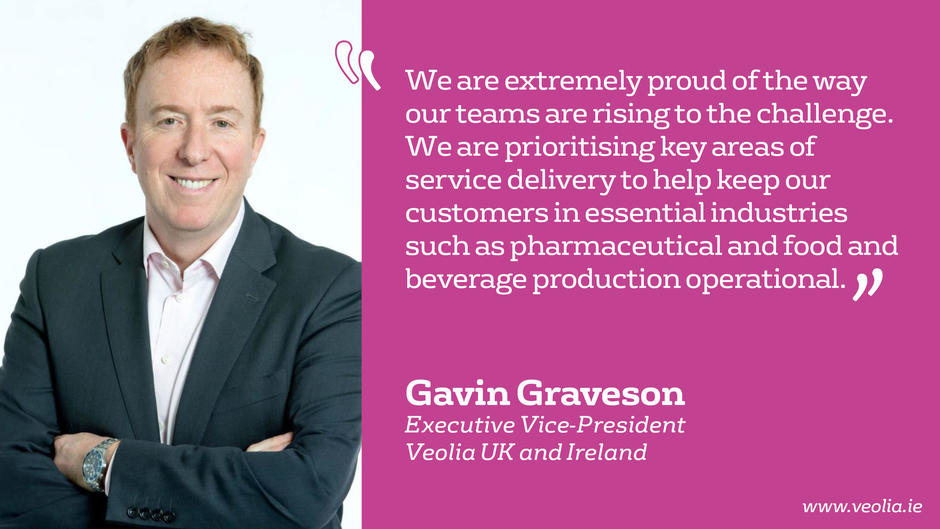 What are our teams doing to respond?
Our teams are working together with our customers to ensure best response to their evolving requirements during this pandemic. We are also adjusting our internal activities to provide full support to our operations teams and looking at ways in which we can help the wider community.
A donation of 11,500 pairs of gloves to local hospitals in Cork having agreed with a customer that these were not being used
Proactively organising extra tankers to help manage additional hazardous waste
Calm attitude and team effort keeping water treatment operations operating
Critical maintenance tasks performed on a customer site, while still adhering to the social distance requirements
Team and customer meetings are being carried out using video conference calling
Support teams working from home using our well-established remote working IT system
Training courses are being delivered online by our People Development and Health & Safety teams
Continuing our policy of working with our district heating customers to manage any difficulties in paying their bills
Managing energy usage remotely using our Hubgrade platform to minimise visits to sites and facilities
Diverting fruit boxes normally delivered to our office to hospital staff in partnership with The Fruit People
Advising our industrial customers on the importance of correctly managing ventilation and air conditioning to minimise the risk of spreading COVID-19 in production facilities
Introducing remote handover procedures between shift teams to minimise contact between people
Hints and Tips
As we are all at home more at the moment, our team has prepared some advice on how how you can minimise your impact on the environment while at home. 
Water saving tips for the home
Water saving tips for industry
Energy saving tips for business
All our business units around the world are mobilized
Wherever we are present, our employees in the field are facing the epidemic to continue to provide the service:
Facing the unprecedented crisis caused by the outbreak of Covid-19, Veolia mobilized from the first days of lockdown to maintain the essential services and protect our employees around the world.
This documentary shows how Veolia's teams in France, the USA, Morocco, Latin America and even in Asia worked day and night to ensure that water was treated, waste collected and recycled, and that services were maintained.