Veolia's purpose is not just a slogan, it is expressed in a complete text
Veolia's purpose is to contribute to human progress by firmly committing to the Sustainable Development Goals set by the UN to achieve a better and more sustainable future for all. It is with this aim in mind that Veolia sets itself the task of "Resourcing the world" through our waste, water and energy services.
Veolia's continuing success is founded upon our usefulness to all of our stakeholders in the various regions where we operates –  customers, shareholders, employees, suppliers, communities including both current and future generations. 
Veolia's purpose hinges on the answers to 4 questions:
In what way is Veolia useful to society?
What is our mission?
How is Veolia different from other companies?
For whom and how is the wealth generated shared?
Veolia's purpose was developed through a long process of work and unprecedented collaboration involving, among others, the company's management teams, employees, the Critical Friends Committee of external experts, customers, and communities.
Our latest Sustainability Report, looking at our achievements from 2019, demonstrates that we're already helping Irish society and business rise to the challenges of the climate emergency
Managing the business through a multifaceted performance
Veolia is committed to a multifaceted performance with the same level of consideration and expectation as regards our economic, financial, commercial, social, societal and environmental performance. Our 18 indicators, as set out in this graphic, show show we track our progress as part of our Impact 2023 strategy. We also report our progress against the relevant UN Sustainable Development Goals.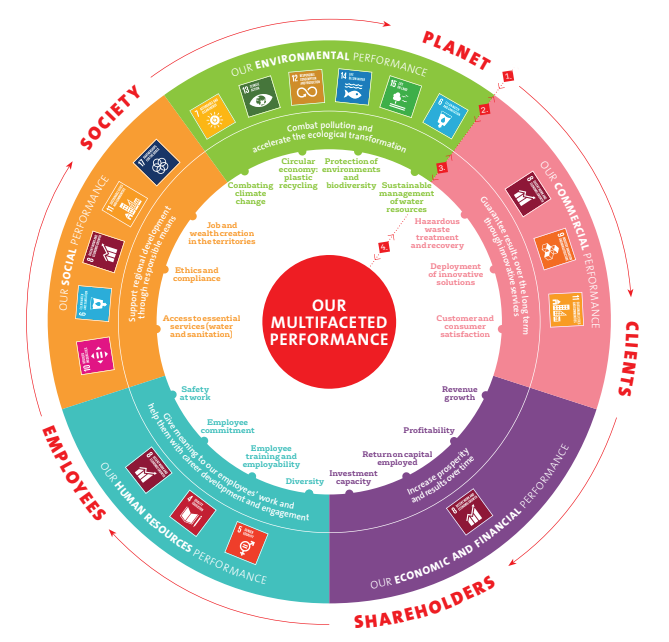 In our community
Veolia has a strong commitment to supporting community activities.
Volunteering
Our Volunteering Policy supports employees who wish to actively engage with their communities by offering up to 16 hours paid volunteering time off per year.  Staff are encouraged to use their volunteering hours to support local organisations or charities in a more hands on manner in a variety of ways.
Veolia Connect
Veolia in Ireland operates a community sponsorship programme called Connect. Staff can obtain funding for projects which they are personally involved with. The funding is awarded by a committee made up of representatives from across our company. To date Connect has donated €80,000 to 60 community groups across 20 counties, all championed by Connect Sponsors!
Environmental awareness in the community
As part of our commitment to supporting the development of the communities in which we live, Veolia has begun to develop partnerships with local communities where we can share our environmental expertise in a non-for-profit capacity. Our energy expertise is helping a Dublin city centre housing organisation to raise energy awareness amongst its tenants, while in Co. Kilkenny, Veolia technology and skills are being deployed to support a local community develop a vibrant riverside amenity.
Reaching out to schools
Primary school children are being made aware of the value of water via the deployment of the Veolia Water Box. This practical learning tool is in use in most countries where Veolia operates. It enhances the existing SESE (social, environmental and scientific education) subjects on the Irish primary school curriculum.