The award was in recognition of the high level of commitment that Stewarts Care have shown in their commitment to reducing their energy consumption, costs and carbon emissions at their Palmerstown site in Dublin through partnering with Veolia* to deliver numerous Energy Efficiency projects since 2009.
In 2009, the first phase of energy projects were implemented that included the construction of a new Energy Centre, the installation of two Combined Heat and Power units, energy efficient lighting upgrades and a comprehensive Monitoring & Targeting (M&T) system. In 2011, a second phase of projects which included the installation of new high efficiency condensing boilers, cavity wall and attic insulation, solar thermal hot water heating systems and further energy metering.
Both phases of projects were delivered and subsequently operated and maintained by Veolia under a long-term Energy Performance Contract with Stewarts Care.
Results to date have shown that compared to the original base line period there has been a saving of over 10% in energy consumption, a saving of over 25% in energy costs and a reduction of over 30% in the carbon energy emissions for the Palmerstown site.
At the SEAI Energy Awards ceremony, the judges said that "Stewart's have shown strong leadership in their investment of €3m since 2009 in energy saving projects and outsourced their energy management to focus on their core business. This project has very good replicable potential in the public sector to deliver substantial savings through a combination of reducing energy demand and optimising energy production"
For this particular category, SEAI announced two winners on the night the other being the Tyndall National Institute based in University College Cork. Stewarts Care and Veolia were also nominated as a finalist in the category of Energy Efficiency Award for Major Energy Users.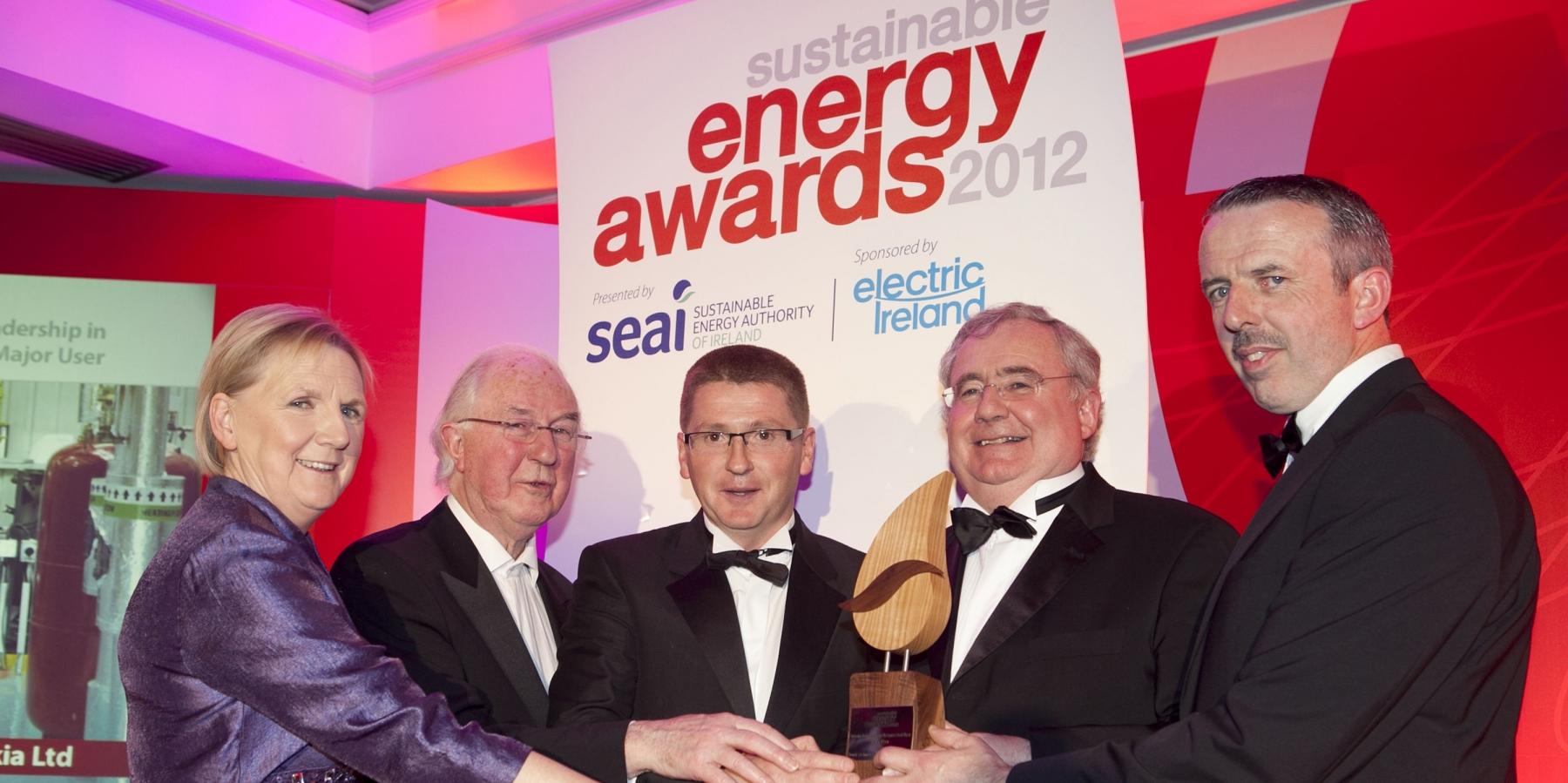 Pictured are: John Lambe (Veolia Business Development Manager) and Padraig Traynor (Stewarts Care Facilities Manager) accepting the Energy Award from the Minister for Communications, Energy and Natural Resources Mr. Pat Rabitte TD.
________________________________
*On 25th July 2014 Dalkia adopted the Veolia group name.