Every year Business in the Community Ireland measures the collective impact made by their members in communities across Ireland and the stats from 2019 have been published.
Veolia's employees in Ireland and Northern Ireland contributed hugely to the communities they live in throughout 2019. This activity included fundraising, volunteering, sharing expertise and cash donations.
The types of organisations that Veolia's employees contributed to include sports clubs, community organisations, schools, special needs education, environmental groups and healthcare charities.
In total they volunteered 467 hours, donated €19,025 in cash, along with €12,274 in employee fundraising and €8,221 of in-kind donations.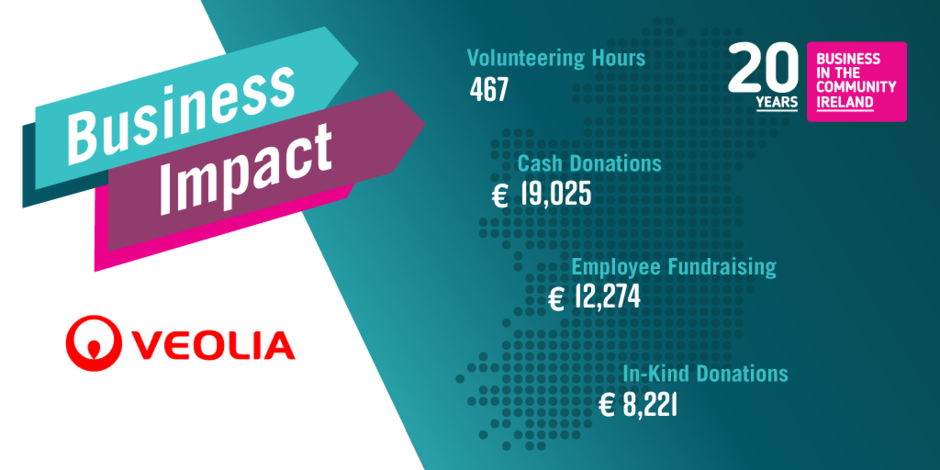 Veolia Connect
Veolia's Teams are Connecting with their Communities across Ireland
The main pillar of Veolia's approach to community engagement is the Veolia Connect community sponsorship programme which has been running since 2010. The programme helps to forge links with the community through providing funding for specific community development projects where staff are personally involved.
BITC Ireland featured two examples of how Veolia Connect funding has helped charities in Ireland - ARC Cancer Care and Féileacáin – Stillbirth and neonatal death association.
BITC Ireland Impact Map results 2019
In 2019, 63 Business in the Community Ireland members contributed almost €38 million to charities and community groups while employees volunteered for 341,856 hours.
€19.6 million was given in cash donations; €12.1 million was contributed through in-kind donations and over €6.1 million was raised through employee fundraising.