ARC provides psychological, emotional, educational and practical support, complementary therapies and counselling services, free of charge to people with cancer and their loved ones, friends and carers. Last year, more than 2,300 people came through the doors of ARC's centres, a number that has increased by 27 per cent since 2014.
Anne McArdle, who works in Veolia's Dublin office and has personally benefited from the support of ARC Cancer Care wished to help the group open their third support centre, to be located in Herbert Avenue in Dublin. She made a successful application to the Veolia Connect Fund in 2019 to secure an initial amount of funding for the project.
She then went one step further and involved her office colleagues in a weekly Breakfast Club with optional donation to an ARC collection jar. Then at the time of dropping the jar to ARC she raised further funds by running a "Guess the Amount" competition with a self-determined entry fee and prizes provided by herself. In total, in 2019 Veolia teams contributed over €3,100 to the project.
The funds raised have made a significant contribution towards the newly opened third centre in Herbert Ave. The opening of the new centre is one of a number of initiatives being undertaken by ARC to meet growing demand with increasing numbers of people being diagnosed with cancer, but this could not have been achieved without this kind support. Our centre in Herbert Avenue, not only will we be more accessible to people in Dublin 4 and surrounding areas, but we will be able to support more clients too."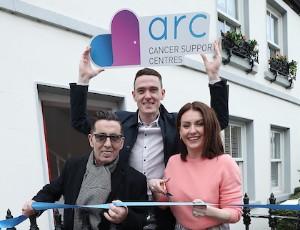 ACR Centre official opening
ACR Centre official opening