Edition 23 of Veolia's Planet magazine looks at the importance of ecological transformation.
What the world needs are rapid actions, a collective commitment, solutions that are economically and ecologically efficient, citizen involvement and a way of measuring efforts. A few weeks after COP26, Planet Magazine decided to (re)launch the debate into issues that have never been more relevant.
In our role as the benchmark company for ecological transformation, Veolia is committed to accelerating and expanding the rollout of existing solutions while simultaneously creating the solutions of tomorrow.
In this edition, the contributors discuss:
why ecological transformation is a necessary disruption
explore solutions such as water reuse, treatment of complex pollutants and local loops of energy
the role of procurement in ecological transformation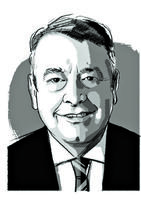 "Never has there been a greater need for us to continue to seek out fresh thinking, ensuring that new ideas, innovations and collective intelligence remain central to what we do and how we operate."

To reduce greenhouse gas emissions, industry is looking at carbon capture. Beyond carbon neutrality, certain applications could well even generate negative emissions.
Using a biological treatment solution for industrial wastewater to successfully improve waste discharge quality