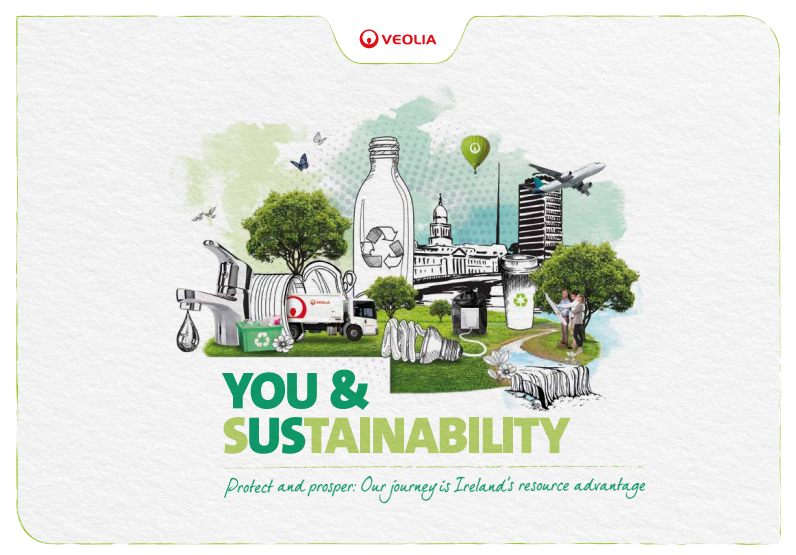 As Veolia Ireland's 2016 Sustainability Report shows, we are making strong progress on sustainability. We continue to work closely with our customers, suppliers and local communities across Ireland to deliver environmentally sustainable solutions, manage resources efficiently and help the country transition to a low-carbon economy.
Managing resources and adopting more circular models is not only helping to protect our precious resources and the wider environment, it is also putting us in a leadership position to help our customers effectively prepare for a sustainable future.
Together, we are making strong progress for our customers
Working in collaboration with partners across Ireland, we deliver value for our customers in energy, water and waste while also creating value for society as a whole. Some examples of how we help the environment, the economy and communities as well as our customers include:
Over 1.5 million people benefit from our drinking water and wastewater installations each year.
Over 2,000 potential accidents avoided through positive staff intervention at work, home and in communities.
Up to €15,000 contributed annually to local community groups through our Ireland Connect Programme.
Over 68,000 tonnes reduction in CO2 emissions for our customers by using Combined Heat and Power (CHP) plants for the production of heat and electricity.
Overall 74% of all hazardous waste managed by Veolia Ireland is recovered.
56% of our revenue in Ireland is derived from the circular economy.
39MW of power available to the Grid.
€750,000 energy savings over ten years for public facilities through the 2016 'Better Energy Communities' scheme.