Since they first took up residence back in 2015, two much-loved barn owls have seen 12 baby owlets fly the nest from their home in a North County Kilkenny conservation project, the River Field.
Barn owls are a Red Listed species in Ireland. There are an estimated 600 breeding pairs across the whole country, so this is no small conservation success story - and it was made possible by the Veolia Connect Fund. 
Veolia supported the construction and installation of a specialised barn owl nest box and bird hide. Despite low expectations - local experts suggested there might be a long wait ahead before any owls occupied the box - a pair moved in within 12 months, and have hatched successful broods every year since. The local community benefited too: families come out to watch the owls, with the children dissecting pellets, naming each year's owlets and doing school projects on them. Local farmers have also stopped using rat poison around their yards, as the owls keep the pests in check for them. 
The support from Veolia has meant the reintroduction of a very special species that had been absent from this area for many years. Our owls have touched the lives of so many people in the locality and there are a whole generation of children growing up here for whom regular sightings of barn owls is completely normal. This is the way it should be.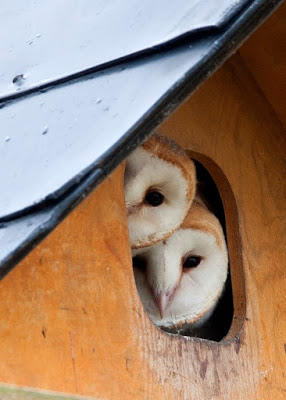 Barn Owls in The River Field
Barn Owls in The River Field